Standard Corporate Box (10)
Fantastic sightlines, corporate area
State of Origin Game 1, Brisbane
$909pp + GST*

Suncorp Stadium, Milton, Brisbane

Wednesday, 5 June 2019

8:15pm - 10:15pm

Beverages costs
additional

Food cost not included
in price



Food and Drink
Runners (shared)


Business Casual
(no jacket/tie req)

Private Facility
for your group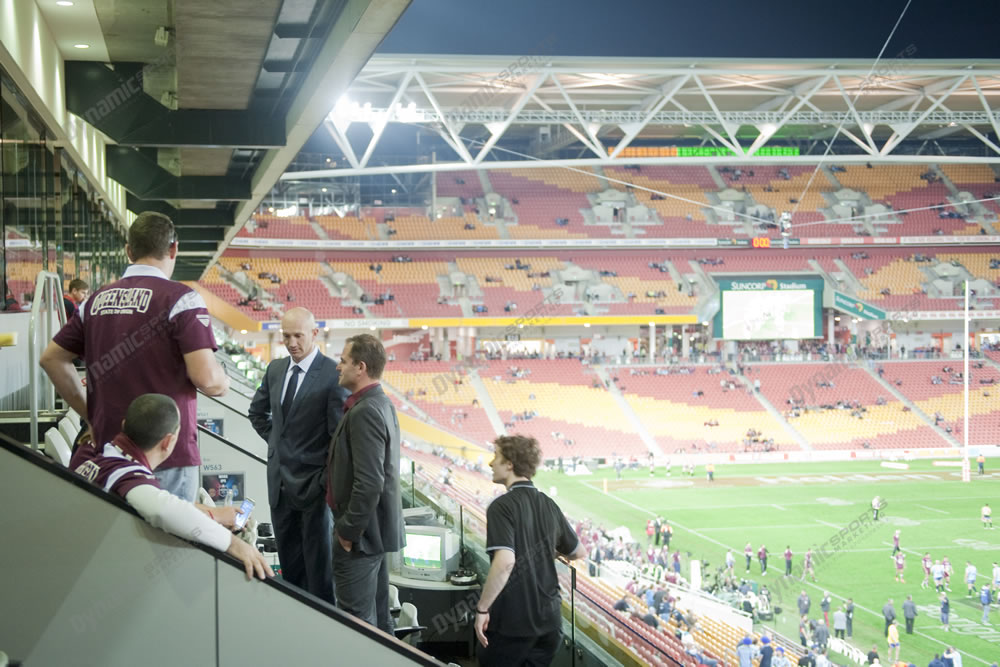 Make an enquiry
• May be sold out
Total Spend for
10 guests
$9,090 + GST*
Make an Enquiry
*Prices may vary depending on inventory levels, locations, menu selections and timeframes.
Pricing Explained
Package Summary
10 seat Open Air Corporate Boxes are available and are located on the Western side of Suncorp Stadium. View a map here
Your State of Origin Corporate Box includes:
Undercover 10 seater corporate box seats on Level 5 in the Western Stand
Choice of menu options from Michael O'Brien Catering (not included in price quoted here)
Premium 4.5 hour beverage Package including premium beer, wine and softdrinks – replenished bar fridge throughout the evening (not included in price quoted here)
A dedicated Host to cater to your needs for the entire event
Match Programs
Automatic Entry to Lucky Door prizes.
Proposed Itinerary:
5.30pm – Guests can access the Corporate Box
5.30pm – Food and Beverage service commences
8.10pm – Holden State of Origin – Kick off
8.50pm – Half Time
9.30pm – Full Time
10.30pm – Beverage service concludes
10.45pm – Guests to depart
Investment:
Prices vary depending on location of the Corporate Box.
For expressions of interest, call 1300 660 509
Menu from 2017
Fresh Seafood Selection
Fresh ocean king prawns served with lemon wedges & seafood sauce
Tasmanian smoked salmon
Barbeque Selection served with freshly baked bread rolls
Grilled Black Onyx eye fillet with brandy pepper cream sauce
Traditional lamb & rosemary sausage – with a hint of thyme & roasted garlic
Inglewood roasted chicken breast with barbequed sweet corn & smoky paprika butter
Roasted sea salt & rosemary new potatoes with garlic chive sour cream
Gourmet Salad Selection
Heirloom tomato salad with Spanish onion, basil, balsamic & olive oil
Green leaf salad with pear, parmesan, lemon & olive oil
Half Time
King Island beef pies with tomato dipping sauce
Platinum Beverage Package:
Beer Selection:
Heineken
James Squire 150 Lashes Pale Ale
Kirin
XXXX Summer Bright
XXXX Gold
Hahn Ultra
James Squire Orchard Crush
Wine Selection
Wolf Blass Yellow Label Sauvignon Blanc
Wolf Blass Yellow Label Chardonnay
Wolf Blass Private Release Shiraz
Wolf Blass Yellow Label Cabernet Sauvignon
Wolf Blass Yellow Label Sparkling Brut
Non Alcoholic
Coca Cola Soft Drinks
Mt Franklin Water
Goulburn Valley Orange Juice
Other Packages Available