Captains Club @ Darling and Co
Exquisite dining with Corporate Box seats
State of Origin Game 1, Brisbane
$1,150pp + GST*

Suncorp Stadium, Milton, Brisbane

Wednesday, 5 June 2019

8:15pm - 10:15pm





Beer, Wine,
Spirits (4.5 hours)



Business Casual
(no jacket/tie req)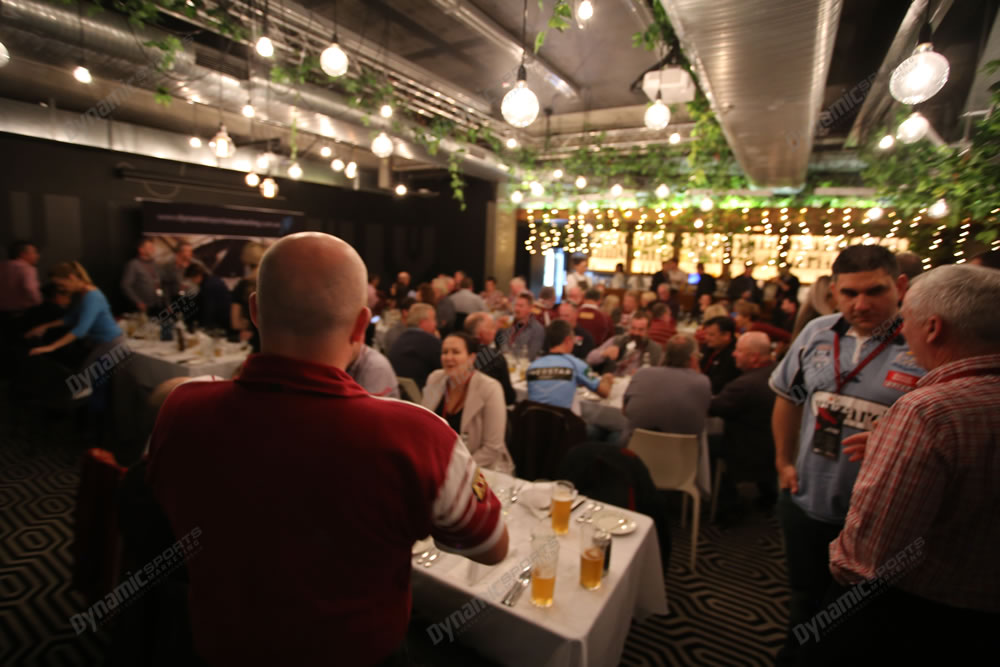 Make an enquiry
• May be sold out
Total Spend for
8 guests
$9,200 + GST*
Make an Enquiry
*Prices may vary depending on inventory levels, locations, menu selections and timeframes.
Pricing Explained
Package Summary
State of Origin 2017 at Darling & Co on Caxton St, a stones throw from Suncorp Stadium. A luxurious setting awaits you to enjoy all the pre-match hospitality followed by Corporate Box seating at Suncorp Stadium.
Hear from some of State of Origin's biggest names as they entertain you and preview the game ahead. Cap off the night with your guests with a 1 hour post-match function, corporate gifts and more.
Key Points:
Best booked in multiples of 8 guests (Corporate Box size for match seating).
An exquisite dining experience at a fine dining restaurant pre-match, guest speaker and more
Fine wines, a large selection of tap and bottled beer AND SPIRITS pre-match
Open Air Corporate Box seating (8 guests) for the game including beer, wine and softdrink (spirits additional) plus half time pies.
Return to Darling and Co for a post match function including beer, wines AND SPIRITS plus canapes
This is a fantastic, all encompassing package.
Captains Club @ Darling & Co package includes:
A pre match 2 hour dining experience and beverage package (including Spirits) at Darling & Co (formerly known as Iceworks) from 5.30pm
Exclusive tables of 8 with your company signage
A range of State of Origin identities in attendance, to meet your guests, offer analysis of the game & provide photograph & autograph opportunities.
Your own Open Air Corporate Box seating (8 guests) for the game including beer, wine and softdrink (spirits additional) plus half time pies. Company signage on the box.
A 1 hour post match function at Darling and Co with substantial canape items, beverage service (including Spirits) from the bar, post match wrap up and more
Professional photographer in attendance to capture the event (photos to be uploaded to our website)
Dedicated event management and hosts to ensure your evening is trouble free.
Holden State of Origin Gifts including replica Steeden football and stubby holder
DSM management in attendance throughout the evening.
Proposed Itinerary
5.30 pm Guest arrival and beverage service commences – Entrée served
6.15 pm MC welcome guests
6.45 pm Main course served
7.30 pm Guests depart for Suncorp Stadium to your Corporate Box. Drink service in box
8.15 pm Holden State of Origin game kicks off
8.55 pm Half Time
9.50 pm Post Match function commences at Darling and Co
11.00pm Function concludes
Investment and how to book:
Price for this package is $1,150 per person excluding GST. Call us on 1300 660 509 for further information or to make a booking.
Bookings of 10 will be allocated a private table. Smaller bookings may be available and will be placed on a shared table.
Dynamic Sports Marketing are official Hospitality providers to the NRL and a range of major sporting codes, venues and associations. With over 15 years experience running high end corporate experiences, book with confidence knowing that you and your guests will be well looked after.
Other Packages Available